Hi,
Just got another email from Amazon, book release delayed till 28/12 to 12/01/08 [:(] at this rate will be the same as the US Amazon!!
I think i may cancell and see if i can get it via TRDC,dont mind paying a bit more as helps the club.
Cheers John.
LIVE LIFE A QUARTER OF A MILE AT A TIME!
1979 3.5 FHC(STATUS PENDING!!)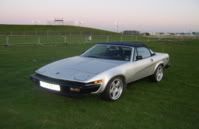 1982 2.0 DHC Soon to be a 4.6 fire breather!!